Article taken from "Backsights" Magazine published by Surveyors Historical Society
---
A NOTE TO A FRIEND
January 1988
Cecil Erick Hanson, born October 19, 1905 in Washington, died October 16, 1987 in Houston, Texas
Dear Cecil: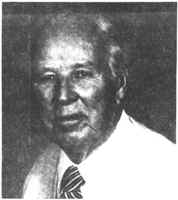 We are really piqued that you have left us so soon. The Surveyors Historical Society is on the threshold of a truly exciting new project involving setting up satellite museums throughout the country compiling a computerized data base of survey archive and artifact collections on an international level. This is close to your dreams for the preservation of the surveying profession, and you were a guiding force in helping us take that first step. We will sorely miss that guidance now.
From your early years in that log house in Washington's north woods to your lovely home in Pasadena, your life was full of adventure, achievement and lasting good works.
Talk about adventure! How many senior citizens take a 90-mile white water float trip down the Salmon River, followed by a 300-mile, nine day rubber raft ride down the Colorado River through the Grand Canyon? Not to mention those annual camping trips by horseback to the High Sierras. Even your world travels to 60 countries and 49 states was quite a feat!
You were actively involved in the surveying profession. You worked with the Los Angeles County Flood Control District for 39 years; you were the co-founder of the southern California section of ACSM (first), held life membership in ACSM and NSPS, were honorary member No. 48 of ACSM (national) and ACSM, northern California section and a holder of the Leadership/Service Award from ACSM, southern California section. Your collection of 150 vintage survey instruments and related artifacts is one of the finest in the world. Your interest in exhibiting these instruments in banks, museums, libraries and at survey conferences was a prime factor in the formation of the Surveyors Historical Society, of which you are charter member No. 1. You shied away from any public speaking (even Toastmasters didn't help), but your eloquence with the written word was unsurpassed.
When you challenged the L. A. County Civil Service closed shop policy in 1944, you opened opportunities for all licensed surveyors to hold supervisory positions not available to them before. Your catalog of the survey instruments and artifacts of the SHS, as well as your own collection, would be of credit to any librarian and these catalogs will be used as groundwork for the SHS Data Base Project
Yes Cecil, your good work will continue to benefit the survey profession for years to come! You were truly a gentleman of the old school and a surveyor's surveyor!
So long from your friends and fellow members,
THE SURVEYORS HISTORICAL SOCIETY